Gluten Free Chicken Paprika Recipe
This tasty creamy gluten free chicken paprika recipe is an adaptation of a Hairy Biker's recipe. I love watching them and I regularly adapt their recipes. This recipe is made all in one pot and I serve it with rice although it would be very tasty with mashed potatoes.
These quantities serve six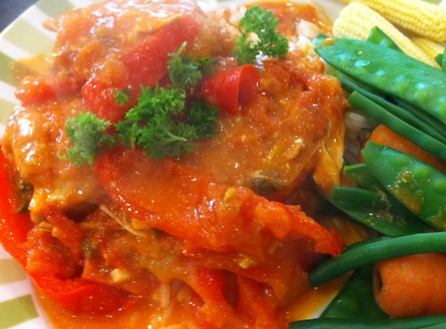 Ingredients
4 chicken breasts halved
Salt
2 tablespoons olive oil
1 onion, chopped
2 cloves garlic, chopped
1 tablespoon paprika (standard)
1 tablespoon smoked paprika
1 tablespoon gluten free plan flour. I use Dove flour but you could use another blended gluten free flour or corn flour.
285ml/0.5pint chicken stock. Use gluten free stock cubes such as Knorr or Kallo.
3 tablespoons chopped fresh parsley. This can be flatleaf or curly parsley.
2 red peppers, de-seeded and cut into 1cm/0.5in strips
4 large ripe tomatoes, roughly chopped
250ml/8 fl oz sour cream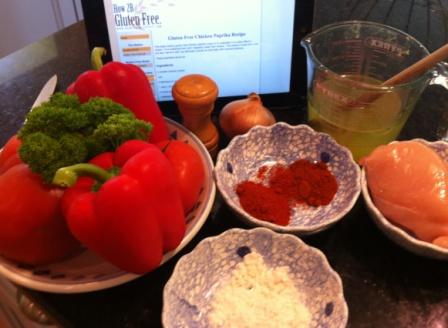 Method
1. Rub the chicken pieces with the salt. Heat the oil in a large heavy-bottomed pan and brown the chicken all over for a few minutes. Remove the chicken from the pan and set to one side.
2. To the same pan, add the onions and garlic and sweat for about five minutes. Watch they don't burn. Add both types of paprika and the flour and stir until combined, again take care not to burn.
3. Add the stock and stir well. Return the chicken pieces to the pan, adding a bit more stock if the mixture seems too dry. We will be adding tomatoes later which will add liquidity.
4. Add half of the chopped parsley and the red pepper. Cover and bring to the boil then reduce the heat and simmer for 10 minutes.
5. Stir in the tomatoes, cover and simmer gently for about an hour.
6. When the chicken is cooked, remove the pan from the heat. Stir in the sour cream and the remaining parsley. Check the seasoning and serve.
---
---