Gluten Free Brownie Recipes
Easy to follow gluten free brownie recipes. Whether you like your brownies chewy, fudgy or nutty, there is a recipe here for you. 
Brownies are one of the best treats to make. If you need a sweet snack with your morning coffee, or a treat to share with friends they work every time. 
They also make the most delicious desserts. You can make them in advance and just warm them through when you need them. 
Serve with cream or ice cream with some fresh fruit on the side and you will have a dessert guaranteed to be a hit.
Enjoy our gluten free brownie recipes
Ingredients are king
Just some of the ingredients that help you make the best delicious tasting gluten free brownies that everyone will love. 

These are recipes that just happen to be gluten free. Making no compromises on taste or texture.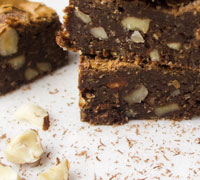 Lots of delicious recipes to try