Gluten Free Cod with Tomato and Thyme Recipe
| | |
| --- | --- |
| | This gluten free cod with tomato and thyme recipe is such an easy gluten free recipe.  The addition of a little soy sauce and sugar gives this a delicious light sweet and sour taste which blends beautifully with the flavours from the tomatoes and cod. |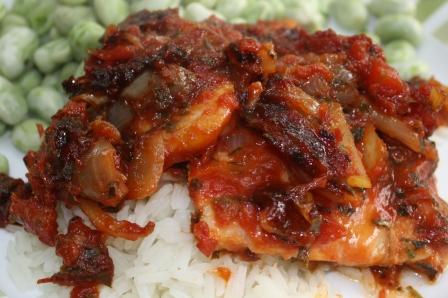 Simple to make with delicious flavours and textures, this is everything gluten free meals should be. 
This recipe takes a few simple ingredients, cod, tinned tomatoes and thyme and makes an ideal family meal or dinner party dish. 
We eat lots of fish at how2bglutenfree and the meatiness of the cod in this dish and the mix of flavours make this a very satisfying meal.  This recipe is cooked in one pan, what could be better, a great meal and very little washing up.  Easy gluten free recipes don't come much easier than this.
Easy gluten free recipes that are also healthy are an ideal combination.
When making gluten-free recipes such as this gluten free cod with tomato and thyme recipe following a few simple rules will ensure your gluten free dish stays gluten free, we have some easy to follow tips on our Avoiding Gluten page.
This gluten free cod with tomato and thyme recipe serves 4.
Ingredients
1 tablespoon olive oil
1 onion chopped
14 oz (400g) canned tomatoes
1 heaped teaspoon light, soft brown sugar
Few sprigs thyme, leaves stripped
1 tablespoon gluten free soy sauce (make sure it says it is gluten free)
4 cod fillets
Method
1. Heat the oil in a frying pan, add the onion and fry for 5-8 minutes until light brown.
2. Stir in the tomatoes, sugar, thyme and soy sauce and bring to boil.
3. Simmer for 5 minutes, then slip the cod onto the sauce.  Cover and gently cook for 8-10 minutes until the cod flakes easily. 
Serving suggestions
Serve your gluten free cod with tomato and thyme with rice or new potatoes and your favourite vegetables.
Try some of our other recipes