Gluten Free Lamb Pilaf with Figs Pomegranate Feta and Almonds Recipe
| | |
| --- | --- |
| | This gluten free lamb pilaf with figs pomegranate feta and almonds recipe is stunning to look at with its mix of textures and colors.   |
Made with leftover lamb or chicken, the blend of flavours with figs, cranberries, feta, almonds, fresh mint and spices makes for a truly scrumptious meal. It is one of our favourite gluten-free recipes for both dinner parties and as a special family treat.
Using cooked meats can make the flavour of some dishes even better than using fresh meat.  We often use cooked meats with our gluten free stir fry.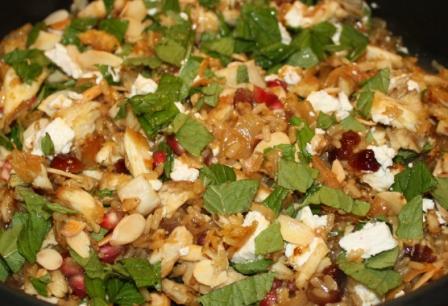 This recipe comes from "Food From Plenty" by Diana Henry.  Not a recipe book specifically with gluten-free recipes but a book which focuses on making delicious meals from leftovers. 
When making gluten-free recipes such as this gluten free lamb pilaf with figs pomegranate feta and almonds recipe following a few simple rules will ensure your gluten free lamb stays gluten free, we have some easy to follow tips on our Avoiding Gluten page.
This gluten free lamb pilaf with figs pomegranate feta and almond recipe gives quantities for 4 people.
Ingredients
I onion, roughly chopped
Olive oil
1 red chilli, deseeded and finely chopped (optional)
1 teaspoon cumin
½ teaspoon chilli powder
2 garlic cloves, crushed
12 oz (350g) basmati rice
1¼ pints (700ml) lamb or chicken stock.
Salt and pepper
1¾ oz (50g) dried cranberries or cherries, soaked in hot water for 15 minutes and drained.
1¾ oz (50g) dried figs, quartered
1lb 2 oz (500g) leftover cooked lamb or chicken, in chunks
2½ oz (75g) feta cheese, crumbled
2 tablespoons chopped mint
1¼ oz (35g) toasted almonds, chopped
Seeds from ½ pomegranate
Greek yogurt (or tzatziki) to serve (optional)
Method
1. Cook the onion in a little oil in a saucepan until soft and golden.  Stir in the chill, cumin, chilli powder and garlic and saute for another minute.
2. Add the rice and stir briefly to coat in the oily juices.  Add the stock, seasoning and dried fruit.
3. Bring to the boil, then immediately reduce the heat to simmer.  Cover the pan and cook for 20 minutes until the liquid has been absorbed and the rice is tender. Don't stir the rice while it is cooking.
4. If the rice isn't yet tender after 20 minutes, pout in a little boiling water, replace the lid and cook for a further 4-5 minutes.  If the stock hasn't been completely absorbed, turn the heat up and quickly boil off whatever remains.
5. Heat 1 tablespoon oil in a frying pan and quickly cook the lamb or chicken until heated through.  Season and gently fork through the rice along with the feta, mint and nuts. Sprinkle with pomegranate seeds and serve immediately.
Serving suggestions
Serve your gluten free lamb pilaf with figs pomegranate feta and almonds recipe with your favourite vegetables and some plain Greek yogurt or tzatziki on the side.
Try some of our other recipes