Gluten Free Pancakes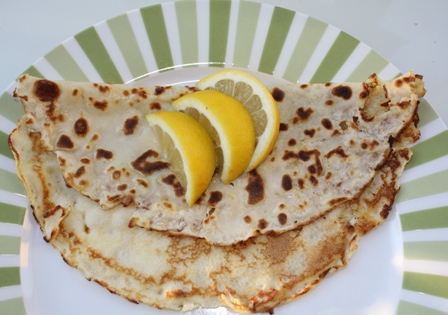 Gluten free pancakes. Have them as a delicious treat on Pancake Day or as a dessert any time of the year.  
This easy to follow gluten free recipe was tested on a very picky 19 year old, who doesn't need gluten free food, and he confirmed they are so tasty the whole family will be fighting over them!  A gluten free treat that everyone will love – what could be better.
Enjoy your pancakes with your favourite filling. We love traditional lemon juice and sugar but bananas and cream or chocolate sauce and ice cream are also favourites. Why not share your favourite filling in our comments section at the bottom of this page.
Add it to your list of gluten free desserts as a quick and tasty option that both adults and children will love.
When making this gluten free recipe following a few simple rules will ensure your gluten free pancakes stays gluten free, we have some easy to follow tips on our Avoiding Gluten page. 
Ingredients
This recipe will make 5 large gluten free pancakes. 
3 ½ ozs (100g) gluten free plain flour
1 large egg
½ pint (500ml) milk
Oil for cooking.
A pinch of salt
Method
1. Sieve the flour into a bowl.
2. Add the salt and the egg, beat a little to break yolk.
3. Mix the milk, a little at a time, until blended to a smooth batter.
4. Cover and store in the fridge for at least 30 minutes.
5. When you are ready to make the pancakes, stir the batter to ensure fully mixed.
6. Add a little oil to the frying pan and heat.  You will need the pan to be quite hot before you add any batter.
7. Once the pan is hot, pour in some of the batter mixture, moving the pan so you get a thin even layer of batter over the base of the pan.
8. Watch the pancake and when golden, turn over and cook the other side.

Tip: If the pancake breaks apart when you try to move it then it has probably not been cooked long enough. Leave it a little longer and use a spatula to ease the edges away from the pan.
Serving suggestions
The traditional lemon and sugar is always a favourite.  As an alternative why not try filling your pancakes with:
Stewed apples, served warm with ice-cream. 
Bananas and cream.
Chocolate sauce and ice cream.
Warmed raspberry or strawberry jam.
Try some of our other recipes
Return from Gluten Free Pancakes to Gluten Free Dessert Recipes