Best Flourless Chocolate Cake

The best flourless chocolate cake! When we were testing this recipe we were stunned and delighted with the compliments we received for this naturally gluten free flourless chocolate cake. 

"simply heavenly"
"unbelievable fantastically good"
"best chocolate cake I think I've every had"
Made with dark chocolate it has a rich chocolate flavour, deliciously moist with a fudgy texture. It really is the best flourless chocolate cake recipe.
Ideal as a super indulgent cake treat or served as a dessert. This versatile flourless cake recipe has quickly become one of our key recipes.
Easily adaptable if you prefer other nuts, hazelnuts are a great alternative to the almonds as they work particularly well with dark chocolate. Simply grind your hazelnuts to a fine consistency and use in exactly the same way as the almonds in this flourless chocolate almond cake recipe. 
Developing this recipe
The Wheat Free Woman loved developing this flourless chocolate cake recipe. You can read about her experiences and how she developed our flourless cake recipes on our sister site wheat-freewoman.com.
Avoiding risk of cross contamination
If ensuring your flourless chocolate cake recipe is gluten free is important to you following a few simple rules will ensure your gluten free flourless chocolate cake stays gluten free, we have some easy to follow tips on How to Avoid Gluten.

Recipe to make your Best Flourless Chocolate Cake
Ingredients
These quantities will make one 8 inch/21 cm round best flourless chocolate cake.
9oz (250g) butter – cut into cubes (it is easiest to do this straight from the fridge)
9oz (250g) dark chocolate (more than 70% cocoa solids) – broken into pieces
9 ½ oz (340g) sugar
4 medium eggs
5 ½ oz (150g) ground almonds
Method
1. Pre heat oven 350⁰F, 180⁰C (160⁰C fan oven), gas mark 4.
2. Grease and line 8 inch/21 cm round loose bottom cake tin.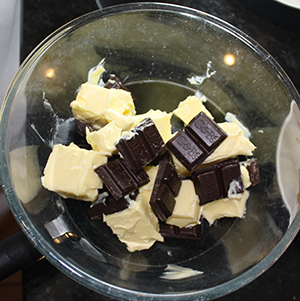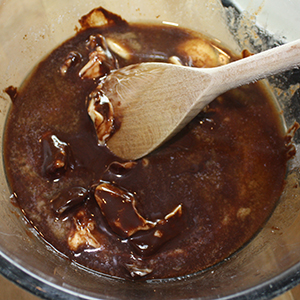 3. Melt the butter and chocolate in a heatproof bowl over a pan containing hot water. Use a gentle heat to avoid it getting too hot, you want just enough heat to melt it. Put to one side whilst you prepare the sugar and eggs. 

4. Using a mixer, whisk the eggs and sugar for 10 minutes using a balloon whisk. The mixture will become pale and fluffy and increase considerably in volume.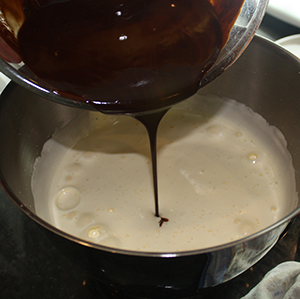 5.  Add approximately a quarter of the butter/chocolate mixture to the egg/sugar mixture and gently fold it in. Then fold in the remainder of the butter/chocolate mixture. Doing this gently keeps more of the air in the mixture this will help it rise and give a lighter cake.

6. Gently fold in the ground almonds. Making sure you do this thoroughly will avoid any clumps of almonds appearing in the final cake. Again fold gently to retain as much air in the mixture as you can.
7. Pour your cake batter into your prepared tin and bake for about 45 minutes. Test with a cake skewer. For a fudgy slightly gooey cake you want the skewer to come out with a bit of cake mixture adhering to it. If you prefer a more "cakey" cake cook slightly longer until skewer just comes out clean. Do be careful not to overcook.
8. Leave the cake to cool in the tin.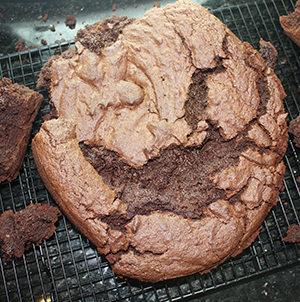 Avoid a Cake Disaster!
If you try to remove the cake too early, disaster will strike. As you can see from the picture of one of our test cakes! 

Try some of our other recipes
---
Return from the Best Flourless Chocolate Cake to Gluten Free Cake Recipes