Gluten Free Almond Chicken Recipe
Easy to follow gluten free almond chicken recipe. Moist and succulent gluten free chicken served on a bed of rice or mashed sweet potato with tasty green vegetables, what could be more delicious.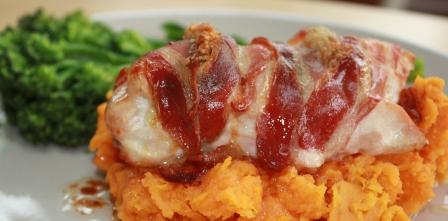 The flavours from the ground almonds, chicken and tarragon blend beautifully together.  We believe all gluten free meals should be this good.
This gluten free almond chicken recipe is one of the best gluten-free recipes, it works equally well as a weekday dinner or a weekend dinner party treat.
It is an ideal dinner party dish since you can prepare the chicken in advance and keep it in the fridge until you are ready to cook it.  If you do this, let the chicken come back to room temperature for 5-10 minutes before you put it in the oven.
When making gluten-free recipes following a few simple rules will ensure your gluten free almond chicken recipe stays gluten free, we have some easy to follow tips on our Avoiding Gluten page.
Ingredients
This quantity makes four servings of gluten free almond chicken.
4 boneless skinless chicken breasts
2 oz (50g) slightly salted butter, softened
1 teaspoon dried tarragon
1 oz (25g) ground almonds
4 large thin slices prosciutto or 12 slices of pancetta
Method
1. Pre-heat the oven to 400oF, 200oC, gas mark 6.
2. Make three lengthways slits in the top of each chicken breast, cutting halfway through the meat.
3. Cream the butter and the tarragon until smooth then blends in the almonds and a pinch of salt (optional). Divide into four and spread in the slits in each chicken breast.
4. Wrap one slice of the prosciutto or three slices of pancetta around each chicken breast overlapping the ends.
5. Lay the parcels in an oiled ovenproof dish, cover loosely with foil or buttered greaseproof paper.
6. Bake the chicken for 20 minutes.  Remove the foil or butter paper for the last 5 minutes.
7. Allow the chicken to cool for 5 minutes then transfer to plates and spoon over the melted butter that has collected in the bottom of the dish.
---
---