Gluten Free Smoked Salmon Pasta Recipe
This gluten free smoked salmon pasta recipe is a real favourite.  It has a delicious lemon and dill dressing and makes an ideal light meal served with salad. 

Easy gluten free recipes don't come much easier than this.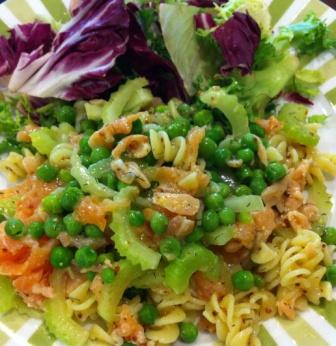 We adapted this recipe from The Intolerant Gourmet .  Pippa has a great site showcasing her gluten free recipes.  She is one of our favourite Gluten Free Blogs.
As with all gluten free pasta recipes you will need to use gluten free pasta.  These are now widely available in supermarkets and health food stores.  It is particularly important with gluten free pasta to follow the cooking instructions on the packet since gluten free pasta is less forgiving and it is very easy to over-cook. 
Adding a good slug of olive oil to the boiling water really helps keep the pasta pieces separate while cooking.  This helps avoid the clumping together which you can get with gluten free pasta (particularly spaghetti).
When making gluten-free recipes such as this gluten free smoked salmon pasta recipe following a few simple rules will ensure your gluten free pasta stays gluten free, we have some easy to follow tips on our Avoiding Gluten page.
This gluten free smoked salmon pasta recipe serves 2 people.
Ingredients
160g gluten free pasta (we like fussili but penne also works well)
100g smoked salmon
100g frozen peas
1 stick celery, thinly sliced
For the dressing
1 teaspoon caster sugar
1 teaspoon wholegrain mustard (do check the label to make sure it doesn't contain flour)
½ tablespoon lemon juice
1 ½ to 2 tablespoons olive oil
A small bunch of fresh dill, chopped (or 1 – 2 teaspoons dried dill).
Method
1. Add the gluten free pasta to boiling water and cook as instructed on packet. 
2.  Trim and end the celery and finely chop into slices.
3.  Flake the smoked salmon.
4. Add the frozen peas to boiling water and cook for 3-4 minutes until cooked.
5. Make the dressing by stirring the sugar, mustard, dill and lemon juice together. Pour in the olive oil bit by bit, whisking as go so completely amalgamated.
6. Drain the pasta and place in a bowl, add the drained peas, smoked salmon and celery.
7. Pour over the dressing and toss well.
Serving suggestions
Serve with you gluten free salmon pasta with fresh salad for a delicious light healthy gluten free meal.
Try some of other recipes