Gluten Free Spanish Chicken Recipe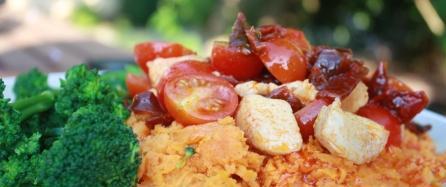 This gluten free Spanish chicken recipe is a delight.  One of the best easy gluten free recipes we know. 
The mix of flavours and textures makes this gluten free chicken a real treat.  Simple ingredients – chicken, cherry tomatoes and marinated peppers topped with an orange and paprika dressing and fresh parsley.  Serve with sweet potato or rice and green vegetables or fresh salad.
Add it to your list of gluten free meals for eating in your garden on a warm summer evening.
When making gluten-free recipes such as this gluten free Spanish chicken recipe following a few simple rules will ensure your gluten free chicken stays gluten free, we have some easy to follow tips on our Avoiding Gluten page.
Ingredients
This quantity makes four servings of Gluten Free Spanish Chicken.
7 oz (200g) pack cherry tomatoes, halved
7 oz (200g) jar marinated peppers in oil, chopped
14 oz (400g) chicken, cut into chunks
Small bunch flatleaf parsley, roughly chopped, to garnish
For the dressing
2 dessert spoons red wine vinegar
6 dessert spoons oil from the pepper jar or olive oil
½ teaspoon smoked paprika
Juice of ½ an orange or 1 satsuma
Method
1. Heat some vegetable oil (we like rapeseed oil or olive oil) in a non-stick frying pan (or you can use a wok).
2. Place the chicken into the heated oil and cook the chicken until cooked right through and lightly brown on the outside.
3. While the chicken is cooking, make the dressing. Using a stick blender or mini processor, whiz together the vinegar, pepper oil, smoked paprika and orange juice until smooth. If you don't have a blender, whisk together by hand.
4. Place the cherry tomatoes and peppers in a bowl, mix in the cooked chicken.  Add the dressing and mix well.
5. Serve your chicken mixture on top of sweet potato (or rice) and garnish with parsley.
You might also like