Gluten Free Turkish Lamb Pilau Recipe
| | |
| --- | --- |
| | This gluten free Turkish lamb pilau recipe is one of those easy gluten free recipes where everything is made in one pot. |
A delicious blend of lamb pieces with apricots, pine nuts, cinnamon and fresh mint.  Served with rice it makes a truly satisfying meal, we have added it to our list of gluten free meals the family enjoy during the week.
As with our Gluten Free Moroccan Lamb Pan Fry recipe this recipe starts with toasting pine nuts.  This will fill your kitchen with the most wonderful aroma that will have enthusiastic dinner guests begging to know "is it ready yet?" A nice position for any cook to be in.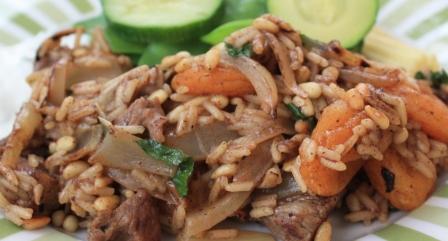 When making gluten-free recipes such as this gluten free lamb pilau recipe following a few simple rules will ensure your gluten free lamb stays gluten free, we have some easy to follow tips on our Avoiding Gluten page.
This gluten free Turkish lamb pilau recipe gives quantities for 4 people.
Ingredients
Small handful of pine nuts
1 tablespoon olive oil
1 large onion, peeled and sliced
2 cinnamon sticks, broken in half
1lb 2 oz (500g) lean lamb pieces
9oz (250g) basmati rice
1 lamb or vegetable stock cube
12 ready-to-eat dried apricots
handful of fresh mint leaves, roughly chopped
Method
1. Dry fry the pine nuts in a large pan until lightly toasted, then tip on to a plate.
2. Add the oil to the pan then fry the onion and cinnamon together until starting to turn golden.
3. Turn up the heat, stir in the lamb and fry until the meat changes colour.  Tip in the rice and cook for 1 minute, stirring all the time.
4. Pour in 18fl oz (500ml) boiling water, crumble in the stock cube, add the apricots and season to taste.  Turn the heat down, cover and simmer for 12 minutes until the rice is tender and the stock has been absorbed. 
5. If the rice isn't tender by the time the stock has been absorbed then add a bit more water and cook until tender.  If you find you have too much liquid then turn up the heat and boil off the excess liquid.
6. Toss in the pine nuts and mint and serve.
Serving suggestions
Serve your gluten free Turkish lamb pilau recipe with your favourite vegetables (we like broccoli or mange tout with this recipe).
Try some of our other recipes