Gluten Free Christmas Mince Pies
Gluten free Christmas mince pies are a delicious traditional British Christmas treat.  

Whatever country you live in, add this to your gluten free Christmas baking list.  

Gluten free mince pies are small individual sweet pies full of succulent spiced dried fruits that can be served hot as a dessert or cold with your morning coffee.  
We were fascinated by the history of mince pies.  The every-useful Wikipedia tells us that its ingredients are traceable to the 13th century, when returning European crusaders brought back to Britain Middle Eastern recipes containing meats, fruits and spices.  
Over the centuries the meat was dropped and by the 1800's Victorian Britains would have been enjoying mince pies similar to the ones we enjoy today.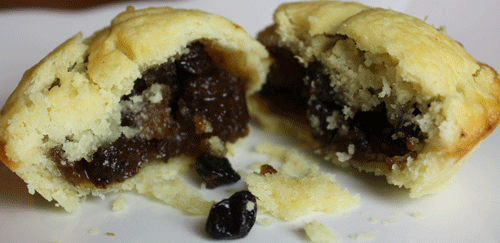 Providing a delicious gluten free Christmas mince pie recipe was a top priority for the Wheat Free Woman since she didn't want to miss out on one of her favourite Christmas treats and didn't see why anyone else should either.  This is a recipe you can serve to everyone, whether they need gluten free or not.
You can use shop bought gluten free mincemeat to keep things simple.  

However you can also make your own, we were surprised how easy it was to make and how delicious the results. Our recipe shows you how.  

Mincemeat is best made in advance to give the ingredients time to infuse.
Whether you use shop bought mincemeat or homemade, just add it to our tasty gluten free pie crust to make tasty gluten free treats everyone will enjoy.  
When making any of our easy gluten free recipes following a few simple rules will ensure your gluten free Christmas mince pies will stay gluten free, we have some easy to follow tips on our Avoiding Gluten page.
Ingredients - for the pie crust
This recipe gives quantities for 12 individual small gluten free Christmas mince pies.  
7 oz (200g) gluten free plain flour
3 ½ oz (100g) butter
pinch of salt
4 tablespoons cold water
Milk and sugar - for the glaze
Method - for making your gluten free Christmas mince pies
1. Pre-heat oven to 425 F, 220C, gas mark 7.  
2.  To make the gluten free pie crust. Mix the pinch of salt into the flour.  Cut the butter into cubes and rub into the flour.  Add the water and mix into a soft dough.  Wrap the dough in cling film and leave to rest in the fridge (for at least half an hour).
3. When you are ready to make your pies, remove the pie crust from the fridge.  Roll it out between two sheets of cling film.  You will need to cut into rounds a little larger then the top of the bun tins for the base of your pies and rounds a little smaller for the tops of your pies.
4. Place the crust bases into the tins, put in the mincemeat to two thirds fill them.
5.  Dampen the edges of the pie crust with water and place the tops onto the mincemeat. Join the edges and press together. 
6. Make two slits in the top and brush with the milk and sprinkle with sugar.
7. Bake in the oven for 20-30 minutes until golden brown.
Serving suggestions
Serve heated with your choice of ice cream, cream or custard.  Alternatively enjoy them cold with your morning coffee or afternoon tea.
---
Ingredients - for homemade gluten free mincemeat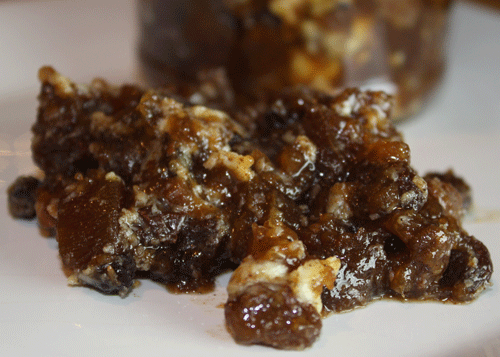 1lb (450g) mixed dried fruit of your choice
1lb 2oz (500g) apples – peeled and cored
3 ½ oz (100g) gluten free suet. If you cannot find gluten free suet, use butter straight from the fridge.
1 lemon – rind and juice
3 ½ oz (100g) brown sugar
1 level teaspoon cinnamon
1 level teaspoon mixed spice
1 level teaspoon nutmeg
pinch salt
4 ½ fl oz (125ml) masala wine
Method - for making homemade mincemeat
1. Put the apples though a mincer along with the suet.  If you are using butter this will be too soft for a mincer, even if it is straight from the fridge.  Therefore grate the butter using a grater and added it to the minced apples.  You can also grate the apples and suet if you don't have a mincer.
2. Mix the fruit, apple, suet, butter, sugar, spices and salt.
3. Add the lemon rind, juice and masala wine and mix well until moist.
4. Pot in sterilized glass pots and cover.
5. These can be stored for up to a month if you use suet but use within one week if you have used butter.
---
Try some of our other recipes
Return from Gluten Free Christmas Mince Pies to Gluten Free Christmas Baking